We are excited to inform you that our social housing programme is resuming. Several factors caused the delay in the execution of this intervention. What we are erecting is climate smart building. It is a combination of Calsi materials and wood. It is perhaps the first of its kind in the state. Thank you Etex Group for the material donations through Nigerite and Emenite. In the video, three trailer loads of materials have been dispatched and recieved with much appreciation. Our founder, Revd Fr Dr Chikezie Onuoha has been a great drive and inspiration in ensuring that all obstacles are removed. He is a great visioner and strategist.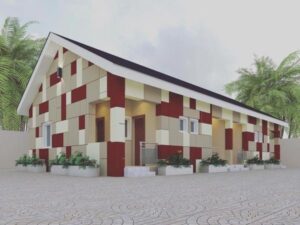 Last week, I spoke with the General Manager of Etex Group in Nigeria, Nigerite. Together with him and the International Director of SELAVIP, we planned the housing project that is now being implemented at Okuku (Owerri), the on-going housing for life for the poor and marginalized urban dwellers project. The project is progressing as planned.
We are now entering the second stage of the project implementation. This is the installation of the houses. Why installation? Because we are using Dry Construction Building Method in the project. This is an innovative solution to cost effective construction. It reduces the use of water and the impact of construction on the environment without compromising on strength and style. It is with Nigerite building material, Kalsi that the project is being done.
With many years of innovation, Nigerite has developed products that can make your house cooler, dryer, quieter and safer to work and live in. With a range of Fibre-Cement roofing and ceiling sheets, plasterboards and POP, Nigerite gives you varieties to pick from for your construction needs.
KalsiClad is a cladding application that gives a modern and stylish look. This gives the home touch of elegance. It is produced to match the architect's design. It is humidity resistant and quick to install. When you think of plasterboard that is safe, sustainable, and smart, think Siniat. The Kalsi Clad can withstand all that comes at it. They are available in floating and confined façades and available in overcladding for renovation projects. The Kalsi Clad can withstand all that comes at it. They are available in floating and confined façades and available in overcladding for renovation projects. KalsiWall is just right for your building solutions.
The writing is to share with you the model and material for the project. Last Wednesday, we received the model of the building which will be installed by one of the engineers with Nigerite. This model was made by Nigerite.
Since 2010, SpringAid International Development, Nigeria has been collaborating with different partners in providing free and descent homes to homeless and poor people. We believe that housing is a fundamental human right. No one should be homeless or live under conditions that are dehumanizing such as living under bridges, uncompleted buildings and all the like.
SpringAid International Development (SAID Nigeria) has been at the forefront of pressing for housing justice. We are doing this through the mobilization, organization of those whose housing rights are denied acquiring the skills and tools to fight for their rights. We build them and assist them explore strategies for promoting the right to housing and a broader set of social and economic rights in informal settlements — including how to foster and strengthen the voice of residents in housing rights advocacy, how to navigate collaborations and confrontations with local governments, and innovative legal empowerment approaches to unlocking the poverty penalty that batters already vulnerable groups. More importantly, we help to construct descent housing for them to have a roof over their head.
We are encouraging communities who are increasingly calling for access to justice and housing rights. In doing so, they will be making a statement about the kind of world they want to live in, and the kind of future they want for their children.