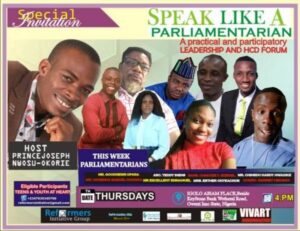 Emerging Leaders In Human Rights and Democracy (ELIHAD)
Human Rights and Democracy are key areas of focus for SpringAid International Development (SAID Nigeria). Our approach in all our activities, projects and programmes are human right based. One of our programmes is Emerging Leaders In Human Rights and Democracy (ELIHAD). This is a Practical and Participatory Leadership and HCD Forum.
As part of SAID Nigeria contribution to protecting,building and promoting sustainable Human Rights and Democratic culture in Nigeria,in collaboration with Reformers Initiative Group we started a project at the beginning of the year called "Speak Like A Parliamentarian"
We recognize the bereft of knowledge and practice in leadership, human right and democracy in Nigeria. It is therefore imperative that our people have opportunity to be trained in the skills of debate, dialogue required for a sustainable democratic culture within any nation.
You may call this programme training Leadership, Human Right and Democracy.
Human rights and democratic principles are very important in the battle against poverty. This is essentially about sharing power and resources in society so that poor women, men, girls and boys have more say.
Speak Like A Parliamentarian can also be describes a school in training in freedom of expression. A democratic society is not possible without freedom of expression. Freedom of expression empowers people to openly state their demands on how the state and government agencies should perform their duties and it gives people access to other rights such as clean water, a roof over their head, energy supplies and healthcare.
Another important contribution of this project is encouraging under-represented groups such as women and youths to get involved in representative politics.
The Programme "Speak Like A Parliamentarian" holds' every Thursday at Igolo Abia Place, beside Key Stone Bank, Wetheral Road, Owerri, Imo State.
We admit the first 10 persons to indicate interest to sponsor or present a bill on the plenary floor.
Every bill sponsor or presenter must structure his bill or proposition in an academic cum parliamentary formats.
Every bill shouldn't exceed five (5) pages and shouldn't be less than three (3) pages.
If you are not at the venue before 4pm you may not be allow to come inside the plenary arena once seating or plenary commences. Your calls may not be taken and your messages replied.
We are posting flyers and videos of some earlier edition