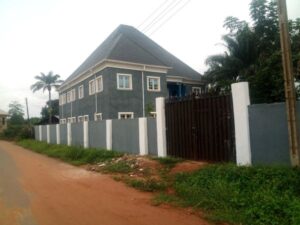 MARIA MAGDALENA WOMEN AND YOUTH
ENTREPRENUERSHIP DEVELOPMENT CENTER, OBOWO- IMO STATE
Why Entreprenuership?
Many have certainly been waiting to hear from us. May we express our appreciation for the support and passion many members, supporters and friends have shown to this project. In a very special way, we are full of thanks to St Maria Magdalena, for their unalloyed support to this project. This is an update on the progress made so far. We would like to congratulate you that together we are achieving something great, capable of transforming lives especially of poor and marginalized women, girls and youths.
Instiling entrepreneurship mind-set and skills in our people is perhaps the best key to fighting and defeating extreme poverty. The urgency of this project can be seen perhaps no better time than now when Nigeria has become the capital city of poverty in the world. It is disheartening especially in a nation blessed with tremendous natural and human resources. It is a nation that should have nothing to do with extreme poverty.
SpringAid International Development (SAID), started in 2008 in Gothenburg Sweden by (Revd Fr Dr Chikezie Onuoha MSP) and funded 80% from his little resources. It is the founder's passion to fight the root causes of poverty and their consequences by helping poor and marginalized people especially women and youths create wealth for themselves.
SAID is dedicated to fighting the root causes of poverty in an integrated right-based approach through Education, Entrepreneurship, Health Promotion and wellbeing, Social Housing, as well as Micro grant. We have our head-office at Owerri and a branch office called Community Engagement Centre at Achingali, Alike-Obowo. Today, we are in a few other countries.
The program adopts a Poverty Graduation Model(PGM).
Poverty Graduation Model is a strategic approach that trains poor and marginalized people and assists them to break the bark of extreme poverty.
SAID Nigeria has erected a modest story building to house its Entrepreneurship program- Maria Magdalena Women and Youth Entrepreneurship Centre at Ikenanzizi, Obowo, Imo State. The Centre has about four Seminar/classrooms, two-event halls, two office rooms, library room, music studio, a store room, a kitchen, computer studio, and a self-contained room for facilitators or trainers who visit the center.
The activities of Maria Magdalena Women and Youth Entreprenuership Centre is both short term and long-term. Short-term aims to make sure vulnerable children are helped to go back to school and to complete their education while long-term is to help these target groups break the cycle of poverty and create for themselves, families and communities sustainable livelihood.
This structure is already completed. It is designed to help enterprising young women and youths launch successful enterprises in areas of market demand. Many men have lost their jobs and are no longer able ro provide for their families. In many of such families, women have now become the bread winners of their families. To enable these young women provide for their kids, pay for their education, care for their health needs, SAID intitated this program.
This program which is part of SAID's Local Access Entrepreneurship Program (LEAP) aims at developing an acceptance for alternative forms of employment and in particular, self-employment and the creation of small enterprises. It is to train, guide, mentor and facilitate access to credit, assisting these women and youths to success. Part of this training will be to expose these women and youths to entreprenuership opportunities in Nigeria, finding opportunities and business management skills. It wil as well help in developing an entrepreneurship mind-set among secondary school students.
In implementing the program, SAID will use a demand-driven approach in the curriculum. It Will have three components: the first will train young women and youths in relevant entrepreneur skills such as creative thinking, idea generation, taking risks, feasibility studies, the business world, generating and screening business ideas, business planning, market research, marketing principles and strategies, budgeting and accounting, selecting business location, business plans, establishment and management of small business enterprises, developing skills for successful employment, such as effective work habits, teamwork and cooperation, bookkeeping, and financial literacy, legal matters, individual action plans. At Maria Magdalena Women and Youth Entrepreneurship Center, we shall help people to engineer their success in life.
Program Objectives
_ - To train, mentor and assist poor, unemployed and marginalized women, girls and youths in
entrepreneurship skills to establish and manage their own small businesses.
_- To help high-school students in rural communities develop an entrepreneurial mind-set through female mentors, business and leadership skills that spur innovation and creativity.
Method/Approach
The training programme can also offer a more solid base for young women entrepreneurs having recently established their small businesses and looking for ways to scale. The course is designed in such a way that participants will be guided through the sequential steps in enterprise development and produce a viable business plan.
The approach adopted in this course should also encourage team work throughout the entire program period and the production of a group business plan to help the participants consider setting up businesses as small teams of business partners, helping each other and serving as coaches to one another by combining their respective strengths and talents and thereby mitigating risks. All teams will present their business plans to the rest of the group; group vote on each business plan. This is the first component of the program.
This is followed by individual action plan where for the next three months, starting from the day following the end of the training, each participant develops own action plan.
The second component takes place with the sourcing and advancement of seed grants to the most successful beneficiaries to start and manage their own businesses.
The third component offers mentorship to them for one year after they have started their own businesses. During this period, a Trust Group is formed that will enhance a saving culture among this group and serve as a platform that can advance small credits for the growth of their businesses and also could serve as a guarantor if they were to apply for loan from conventional finance institutions/banks.
Why Is SAID Involved?
This is SAID's commitment to fostering entrepreneurship in Nigeria, to building strong, enlightened, prosperous and inclusive and sustainable communities. Through this we assist these entrepreneurs get the necessary resources, tools, networks, connections they need to take their ideas and passions and turn them into thriving businesses that end the root causes of poverty, that help to transform their communities. We are convinced this entreprenuership training will play a vital role in driving economic and social growth, creating jobs and innovations to improve people's lives through market based solutions.
Basketball legend Michael Jordan once made an observation that could be applied to all kinds of human endeavours: "Some people want it happen, some wish it would happen, others make it happen". SAID is making development happen for marginalized and socially isolated and poor people. Will you join us to make it happen? It requires bold leadership and unprecedented cooperation to address the challenges facing us. No single individual or organization has all it requires. We have no doubt.
SpringAid International Development (SAID) Nigeria aims to be in the forefront of visionary leadership in entrepreneurship in Nigeria, transforming hope into innovative actions to help the poorest of the poor lift themselves to prosperity by breaking the bark of poverty and creating wealth.
Programs
1. Entreprenuership & Enterprise Development:
This is the core activity of the Centre- developing enterprenuership mind-set, Small enterprise development and management, Financial Education(money management), Financial Literacy, Community Development, Computer Literacy
2. Early Child Care & Education:
Vulnerable/ at risk children are a special focus for us in this program. Literacy, Reading & Comprehension, Counseling/ Psychosocial Support. Forming and running a Child Protection Committee.
3. Trust Groups
Those who completed successfully the program will be encouraged to join a Trust Group. The aim of this Trust Group is to support members in their enterprises. It will cultivate a saving culture among members, advances micro credits to members and acts as a colleteral/guarantor to mambers obtaining loan from conventional finance institutions/banks.
Where Do You Come In?
We have this beautiful program but without funds to implement it, and trainers and mentors to run it. This is where you come in. SAID would like to partner with companies, organizations and individuals as strategic partners in both management and program execution. We need you moral and financial support.
THE PROGRAM WILL BE COMPLETELY FREE FOR BENEFICIARIES WHO PASS THE SCREENING PROCESS AND ARE ENROLLED IN THE CENTRE.
Do you think this is possible and what would it entail? Could you see this as part of your Corporate Social Responsibility to our people?
Jovita Keshi, Community Engagement Coordinator
+234 8020929570
SpringAid International Development (SAID Nigeria) project@springaidnig.org
SpringAid International Development (SAID Sweden)